Sitting, lying, relaxing, playing, lingering, reading, watching, meeting and talking. Everyone has different needs and expectations of public places. We have created Komevuoi to satisfy these needs in the best possible way: A multifunctional public furniture that every user can adapt according to his needs.
The frame is constructed of weatherproof metal tubes, supplemented with comfortable yet robust hemp textiles and wooden modules attached with ropes. Depending on requirements, the scaffold can be tilted and turned, the modules can be used in different ways, individual arrangements can be created and own elements can be added. This enables the integration of all park visitors and inspires them to become creative and playful masters of their own public space.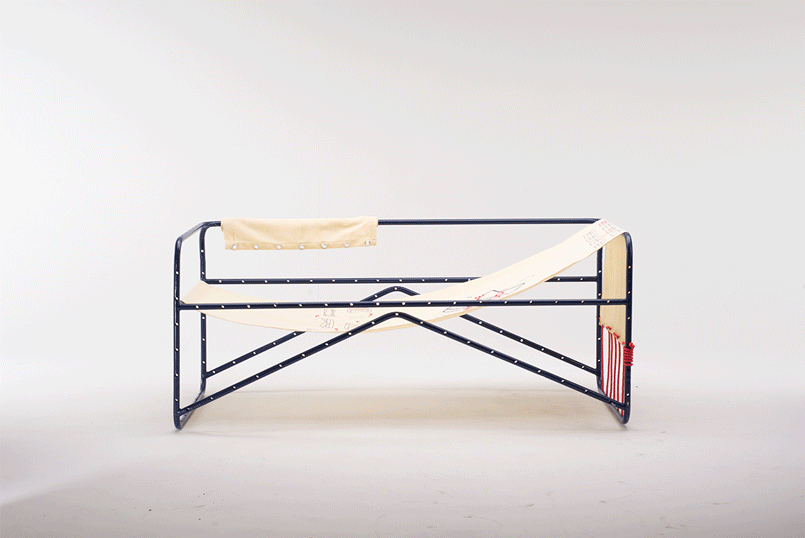 In order to meet all the needs of park visitors, Komevuoi is designed according to the semi-open design principle. The framework itself is fixed, but the holes in the construction and the ability to modify the modules allow the user to add his own elements and thus adapt the entire construction. By rotating, turning, arranging, changing and adding, each user can adapt the piece of furniture according to their own needs. The creation of this public furniture is also intended to combat the development of consumer spaces and to create a friendly and open living space without consumption.
The furniture itself also serves as a means of communication. Simple, low-threshold access to Komevuoi is created by printing on textiles or wood. With the use of icons and graphics, the language barrier is overcome and all user groups are integrated.
Project collaboration with Leonie Bahl, supervised by Prof. Kris Krois and Karl Pircher